Today call me enough; yes that's right my friends. I have a post featured at Just.Be.Enough. and I could not be more proud.
When Elena asked me to share a post, I jumped at the chance to become a part of the conversation at a place devoted to acknowledging the good that already exists inside us.
So many of us spend our days building up others while we simultaneously tear our own selves down. We're quick to focus on our imperfections, our not-quite-yets instead of the alreadys and the bests that we have given.
I want us to stop doing that. And Elena Sonnino does, too. In fact, she has this to say this about the site she founded:
Imagine feeling taller. Imagine feeling stronger from the inside out. Imagine knowing and BELIEVING that you are strong. Just.Be.Enough.
I can't think of a better goal to reach. For each of us as individuals, for our children we are teaching how to live.
Because I want these kids to learn to love themselves even half as much as I do.
So please visit me and the ladies of Just.Be.Enough, then follow them on twitter and Facebook.
And one last thing, my beautiful, smart, generous friends: Promise me to never forget -
You are enough. Just as you are.
And when all else fails, ice cream is pretty awesome, too.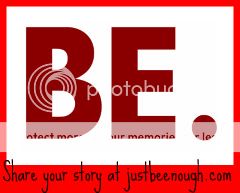 Meet Julie
Subscribe to my blog by email!
Featured Posts
Recent Posts
Categories